Welcome to Agriturismo Ca' Poggio
The company called Ca' Poggio, run by Mirco and Angela, is located in Vignola di Sogliano al Rubicone, on a hill 2 km from a town famous for its ancient underground pits, in a beautiful landscape with views of the sea and the Uso valley.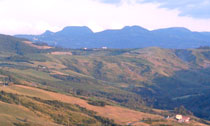 Agriturismo Ca' Poggio extends on a surface of 18 hectares between gullies, forests and earth cultivated by wheat, barley and medical grass, used to feed the company animals.
A cozy farmyard accommodates about 20 cows and calves, and there are pigs, sheep and animals from courtyard in the barn shelters. Some fruit plants like grapevines and many olive trees are also cultivated.
Mirco prepares and sells the beef, mutton, pork and the cured meats in the company workshop.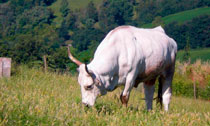 There are also many wild animals. The sky is flown over by the swallows and with a little luck you can see foxes, hedgehogs, pheasants, hares and deer.
Just a few meters away you can also visit the small church of San Donato, the temple for Peace.
Services:
Accommodations available for disabled visitors
Restaurant
Rooms
Direct selling point